Deepening Understanding- Home learning packs
During the coronavirus quarantine period in Spring/Summer 2020, Rob realised that lots of people were going to find themselves at home with their children for several weeks/months looking for things to do. So he decided to post some draw-along videos that parents could watch with their kids and, hopefully, make some nice pictures. Here they are. Please do draw along and send him the results using the hashtag #DrawWithRob.He is @RobBiddulph on Twitter and @rbiddulph on Instagram. Taken from the Draw with Rob website.
White Rose Maths – Home Learning
As schools worldwide close for now in response to Covid19, you might be wondering how best to help your child or children with their studies at home.
Always happy to help, the White Rose Maths Team has prepared a series of five brand new maths lessons for each year group from Years 1-8. They will be adding five more each week for the next few weeks. Every lesson comes with a short video showing you clearly and simply how to help your child to complete the activity successfully. Taken from the White Rose website.
There are also Facebook groups that you can join for each year group where the resources will be shared daily and live lessons streamed. Search WRM and then the appropriate year group, ie. WRMY1.
We have created home learning packs to take the stress out of these uncertain times due to the outbreak of coronavirus. Each pack contains all you'll need to ensure your children continue to learn during any school closure. Taken from the Classroom Secrets website.
The Classroom Secrets Kids site is also offering free online learning games ans activities during the school closure period.
Twink are offering access to their site free of charge during school closures. Parents should enter the code PARENTSTWINKLHELPS.
Twinkl have also recently launched a dedicated home learning hub for parents with lots of resources, activities, games and advice.
https://www.twinkl.co.uk/resources/parents
Phonics Play is making their website totally free during the school closure period. Parents do not need to subscribe and can just login with the details below to access all the games and activities.
Username: march20
Password: home
The Literacy Shed has created a series of free home learning activity packs that can be accessed from the FREE RESOURCES section of their website. The site has lots of lovely videos to inspire writing and some wonderful stories to captivate readers of all ages.
Audible
The Audible Stories website states: "For as long as schools are closed, we're open. Kids everywhere can instantly stream an incredible collection of stories, including titles across six different languages, that will help them continue dreaming, learning, and just being kids. All stories are free to stream on your desktop, laptop, phone or tablet."
To start listening to Audible Stories, just explore the collection, select a title and start listening – it's that easy.
With the outbreak of Coronavirus (Covid-19) now affecting some educational institutions around the world, it is possible that schools may need to close temporarily and we at 2Simple are offering free access to both Purple Mash and Serial Mash. Taken from the 2simple website.
Code.org is launching Code Break — a live weekly webcast where their team will teach your children at home while school is closed, and a weekly challenge to engage students of all abilities, even those without computers. Parents can sign up to receive each week's Code Break. Taken from Code.org.
'Teach your monster to read' – App and website
This is a brilliant app for early readers (from Reception up to Year 2) and is totally free to download at the moment!
PlanBee is a lesson planning website that offers many free lessons for all ages and all curriculum areas. These would be useful things to download and share at home. Plan Bee are also creating learning packs and producing live lessons. More information can be found on the school's Twitter feed.
iCompute are offering lots of free resources to support children to access the computing curriculum during school closures.
Until the end of April 2020, Teachit Primary are offering all the benefits of an individual subscription for FREE. That's unlimited access to all their adaptable Word documents, PowerPoints, Whiteboard activities, teaching packs and student-facing workbooks, worth over £322. Taken from the Teachit Primary website.
Activity Village have pulled together some of their favourite activities into the bundles and for the next few weeks at least they are making them free for everyone to download.
This American website is daily learning workbooks for free during the school closure period. There are lots of maths and logic puzzles on here that children will enjoy. Please do be aware that as an American site, it talks about grades etc and the curriculum is different to the UK.
Mr French has created two free activity booklets for children who would like to continue their French learning whilst not in school. These fantastic booklets come complete with answers too!
The RSPCA Education Team have created lots of free resources to help keep children busy whilst self-isolating or staying at home. These activities and interactive resources are a fun way to learn about animal welfare.
This link will take you to lots of unplugged (computer free) computing activity ideas.
The Literacy Company
During this current period of uncertainty for schools, The Literacy Company are offering a range of free resources to engage pupils in practising key English, spelling and phonics skills if they need to work from home.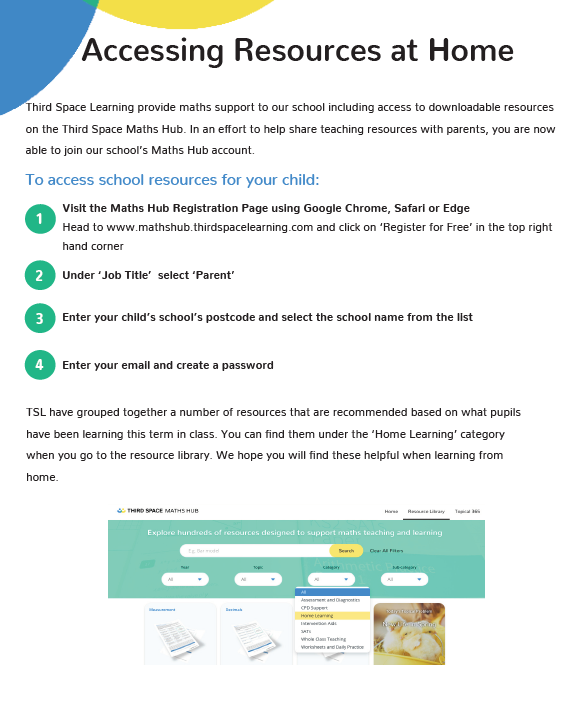 Free primary home learning resources for parents during school closures