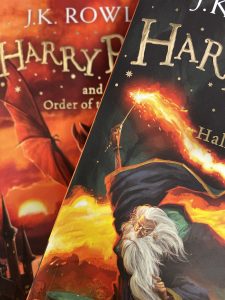 Intent 
At St Peter at Gowts CE Primary School, we work towards unlocking potential in all and know that reading is key for academic success and lifelong learning. Through our holistic reading curriculum, we strive to teach children to become fluent, confident and able readers. Children are given the opportunity to engage with a wide variety high quality texts and real purposes for reading to practise and embed their reading skills.
Implementation 
We use a synthetic phonics programme called 'Read Write Inc' produced by Ruth Miskin. Read Write Inc. is a method of learning letter sounds and blending them together to read and write words. As part of this, all children in Reception and KS1  have daily phonics sessions in small groups where they participate in speaking, listening and spelling activities that are matched to their developing needs. The teachers draw upon observations and continuous assessment to ensure children are stretched and challenged and to identify children who may need additional support. Children work through the different stages, learning and developing their phonics sounds and knowledge. We recognise that systematic, high quality phonics teaching is essential but additional skills and opportunities are needed for children to achieve the goal of being a well-rounded reader, namely comprehension.
Through reading sessions in KS1 and KS2 (and Reception in the summer term), reading is developed using high quality texts and focused skills teaching. Strong links are made between reading and writing- children read enjoy high quality fiction and non-fiction texts, which are linked to their topics across the curriculum. In reading sessions, children participate in both whole class and small group reading sessions in order to develop their key reading skills of decoding, retrieval, exploration, analysis and deduction. We use Reading Vipers (Vocabulary, Inference, Prediction, Explain, Retrieve and Summarise) as a tool to focus the teaching of key reading skills. Additional reading comprehension support is also offered through Reciprocal Reading intervention sessions.  Children also continue to develop their reading fluency skills, building upon their phonics knowledge and skills. John Murray's 6Ps (Passion, Pace, Pitch, Punctuation, Pause and Power) are used to focus the teaching of fluency. Specific phonics interventions using RWI continue into KS2 for those children who did not pass the phonics screening or who need additional phonics support.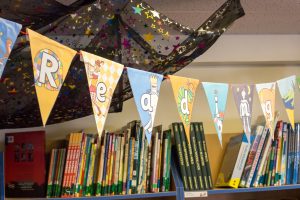 We recognise the importance of developing a rich and extensive bank of vocabulary- teachers ensure that new and difficult vocabulary is pre-taught and that children have the necessary skills to unpick word meanings in context when unsupported by an adult.
Talk for Writing is developing across school and the book talk and reading as reader/writer elements further support children in developing vocabulary and authorial intent understanding.
Reading at home is encouraged and children across school read regularly with teachers and teaching assistants. All children have the opportunity to read with an adult at least once a week but, in many cases and parts of the school, this is more.
Books shared with children are age-appropriate and matched to the level of the class/individual. Children working on R W Inc. programme have home reading books matched to their current phonics level but are also encouraged to choose an additional book to share with their family at home. Children who are not yet 'free readers' work through our school reading scheme – these are levelled books which match the children's current reading ability. We expect family at home to read these books with their child daily and make comments in their child's reading record.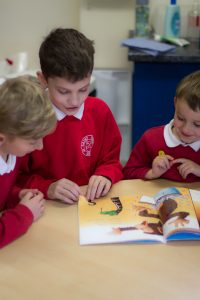 Impact 
Through the teaching of systematic phonics, our aim is for children to become fluent and confident word readers by the end of KS1.
As a Year 6 reader transitioning into secondary school, we aspire that children are fluent, confident and able readers, who can access a range of texts for pleasure and enjoyment, as well as use their reading skills to unlock learning and all areas of the curriculum.
We firmly believe that reading is the key to all learning and so the impact of our reading curriculum goes beyond the results of the statutory assessments.