PSHE & RSE intent statement:
At St Peter at Gowts, we aim to provide our children with a deeply embedded RSE (Relationship and Sex education) and PSHE (Personal, Social, Health and Economic) which enables our children to develop knowledge, understanding, attitudes, values and skills they need in order to reach their full potential. We want them to feel happy as individuals, family members and within the community, both now and in the future. By providing a purposeful and appropriate PSHE education, which is reflective of our children's needs, we aim to ensure that all of our children leave primary school feeling confident in themselves and are able to thrive in an ever changing, complex world.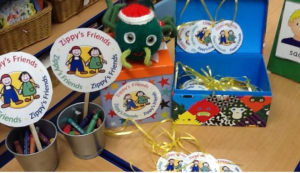 PSHE & RSE implementation:
Our PSHE and RSE curriculum is delivered through discrete learning sessions as well as being interwoven into everyday school life, providing reflective learning opportunities responding to the immediate needs of our children.
Key Stage 1 follow the Zippy's Friends scheme and KS2 follow the PSHE association programme of study. Where additional areas of study are required outside of the Zippy's Friends scheme in KS1, the PSHE association scheme is used to supplement this.
PSHE is timetabled 1 hour a week in Key Stage 1. In Key Stage 2, children participate in a reflection time, lasting for 15 minutes, 4 times a week and is a time where children get to discuss questions linked to their current topic. Teachers may also use a reflection time to deal with any issues that have arisen in their own class during the day or week. Reflection times can take many different forms including Philosophy for Children approaches.
Enrichment opportunities are used to help support the learning of PSHE such as trips to the fire station and visits from the police community safety officer, as well as visits from outside agencies to deliver talks on drugs and alcohol and transitioning from primary to secondary school.
In Key Stage 2, classrooms have a 'reflection time' area where children can put forward any other questions they may have about the topic which can be addressed at another appropriate time.
A variety of books are used for teaching specific areas of the PSHE curriculum as well as incorporating these within daily story time.
PSHE & RSE impact:
By the end of Year 6, transitioning to secondary school, we aspire that pupils will have developed a deep understanding of themselves and others, both in their communities and around the world. We want the children to be well equipped on their journey through life to be emotionally resilient and understanding individuals, ready for whatever may come their way.