PE with Joe Wicks- Daily at 9am
Starting Monday 23rd March, Joe Wicks will be hosting a free workout aimed at kids LIVE on his YouTube channel. With the schools closed and with us all spending more time at home, it's more important than ever that we keep moving and stay healthy and positive. Exercise is an amazing tool to help us feel happier, more energised, and more optimistic.
The workouts will be fun and suitable for all ages and even adults can get involved.  You don't need any equipment, just tune in to his YouTube channel at 9am each morning for a 30-minute, fun workout. Taken from https://www.thebodycoach.com/blog/pe-with-joe-1254.html .
Sworkit
The Sworkit Youth Initiative provides children across the world with free access to Sworkit's premium digital fitness technology.
Sworkit is committed to dedicating time and resources to help build healthy habits with kids today, as they believe it's essential to combat obesity in the future.
Parents, now you can Sworkit with your kids! Follow the instructions below to access the Sworkit Kids video workouts for free.
Sworkit (Simply WORK IT) is the best way to get a great workout anywhere, anytime, and on almost any screen.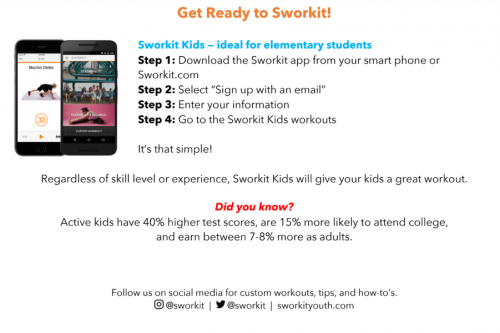 Please note: Sworkit should be used with adult supervision.
FA Super Kicks
Have you got a Mini Imp at home keen to get their football fix? Download the FA Super Kicks App FREE on the App Store. There are 100s of active and creative challenges design by FA Coaches to get your kids active and improve their football skill.