Curriculum Intent
At St Peter's our curriculum unlocks a passion and curiosity for life-long learning.
Curriculum Implementation
Our curriculum is planned to equip children with skills and knowledge that they will need throughout life; our well-planned, immersive and thematic approach allows the children to make links within and between subjects in order to develop a deep understanding. Fundamentally, our pedagogy is influenced by evidence-based research, which is shown to impact on quality first teaching. As a school we recognise the importance of inspiring reading from a young age and continue to ensure opportunities for all readers are woven throughout the curriculum. Our 'wow and 'wonder' days enrich the curriculum through first hand experiences coupled with a cohesive extra curriculum programme, which develops learning outside the classroom
Inspiring and knowledgeable subject leaders are the driving force behind the rigorous development and sustained high expectations of all the curriculum subjects. Leaders work hard to create meaningful links, which allow the children to fluently transfer their skills and knowledge across the curriculum. As a school team we value the opportunity to work collaboratively within and outside of school and constantly reflect on our practice to improve teaching and learning and ensure the highest-level outcomes for all children.
The children of St Peter's reflect the diverse community of Sincil bank and the surrounding areas.  As a result, we instil the importance of being aware of and understanding our different communities as well as accepting and celebrating the wealth of experiences, which our community bring on a local and world-wide level. Our children will evolve into confident, assertive and self-aware individuals with the life skills, which equip them for the next stage of their development.
Reading and writing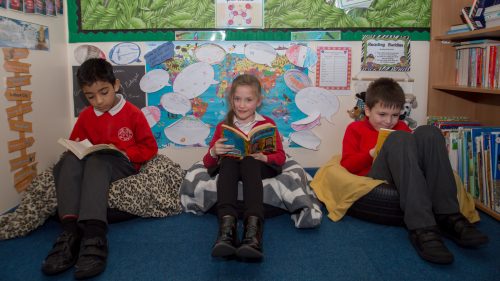 In Reception and KS1, the children start the day with a fast paced Read, Write, Inc. phonics or spelling session. Read Write Inc is designed to help teachers teach children how the alphabet works for reading and spelling. It focuses on securing word recognition skills, as these are essential for children to decode (read) and encode (spell) words accurately with ease, and so concentrate on comprehending and composing text. Systematic, high quality phonics teaching is essential, but more is needed for children to achieve the goal of reading, which is comprehension. More information onRead, Write, Inc. can be found here: http://www.ruthmiskin.com/en/parents/
Reading is developed in whole class sessions using high quality texts, in group reading times and through class stories. We enjoy cross-curricular writing sessions throughout the week as well as developing grammar and spelling skills. Children end the week with a Big Writing session to show off our writing skills.
In KS2, children read and write a range of high quality fiction and non-fiction texts which are linked to their topics. Strong links are made between reading and writing. In reading, children participate in both whole class and small group reading sessions in order to develop their key reading skills of decoding, retrieval, exploration, analysis and deduction. Children also develop their skills in reading aloud. In writing, children write for a range of purposes and in a variety of genres, applying learning from our reading. Grammar and punctuation is taught explicitly and reinforced through reading and writing where children learn how to use it to good effect. In KS2, children also complete a Big Writing session to show off their writing skills. This is completed on a Thursday and edited and improved on a Friday.
Maths
The teaching and learning in maths is based on the principles of a mastery approach to learning maths. Children are asked to show fluency in their knowledge and skills and apply these to problem-solving activities. Key areas of learning include use of the four operations, fractions, measure, shape and space and statistics.
Children from Nursery to Year 6 also take part in daily CLIC sessions from Big Maths. Big Maths seeks to address the common lack of confidence shown by children in maths. The 4 elements of CLIC are: Counting, Learn Its, It's Nothing New! and Calculations. Children work through each of the different areas and practise their maths skills and apply and their knowledge. More information about CLIC and Big Maths can be found here: http://www.andrelleducation.com/wp-content/uploads/2017/05/Big-Maths-CLIC-Book-Introduction.pdf
Whole school thematic curriculum
In order to make learning relevant and ensure children can makes links across subjects, we plan our learning through topics and themes.  The National Curriculum programmes of study for each subject are brought together under one topic heading which brings a focus for the whole term of study. We work on a two-year rolling cycle of topics which allows the children to cover all necessary objectives over the two years they are in each key stage. More information about each topic can be found on the class pages