Geography intent statement:
As Geographers, we are all inspired by the awe and wonder that our natural and human world presents. With the average life expectancy of a child born in Britain in 2012 being 100 years, children of today will be on our planet for longer than ever. Therefore, the teaching of Geography takes on an even more significant role in today's interconnected world. Our planet provides us with all our needs today, however this may not last because our actions influence its future survival. Geography helps to explain and ignite a fascination for the planet, learning how we are connected through migration, trade and the resources which our planet produces as well as the impact humans have, both positive and negative and the potentially consequences of this. Our Geography curriculum deepens children's knowledge of the places and people across the world, allowing children to have a recall of key geographical facts and encourage them to explore, ask questions and undertake new experiences both now and in the future, as well as developing transferable skills for their further education and beyond.
Geography implementation: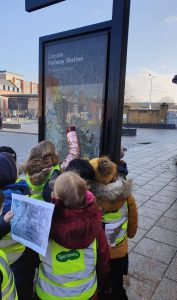 Our Geography curriculum is implemented through a cross-curricular topic based approach to engage and immerse our children within topics which they may have limited experience of.
Geography topics begin with a pre-assessment of current knowledge and skills, from which a learning sequence is constructed.
Our spiral curriculum is progressive in skills and knowledge with key vocabulary underpinning topics, which is subsequently built upon through topics and year groups.
Key areas of learning are revisited regularly and links are made within and between topics which supports our children's learning through spaced repetition and learning flashbacks. This formative assessment is used to inform future lessons in the learning sequence to help children to gather a broad and deep understanding of the topic.
Teachers plan a sequential journey of learning using progression grids which are used to support the assessment of children, ensuring appropriate next small steps of learning are planned for.
Vulnerable groups of learners are supported through appropriate support and stretch challenges based on assessment for learning, to ensure the needs of all learners are met.
Enrichment opportunities are used to help support the learning of key geographical areas of the national curriculum, such as local fieldwork studies and trips to the coast to support the understanding of key physical and human features and key topographical features.
Classroom working walls reflect the learning journey of the class, highlighting key knowledge and skill development as well as specific vocabulary. Working walls may also identify links between previously learnt topics to help make connections between key themes.
At the end of a topic, pre-assessments are revisited for children to reflect upon and show off their new learning. Learning flashbacks throughout the rest of the year will allow children to revisit their learning, ensuring it remains in the long-term memory ready for further connections to be made.
Geography impact: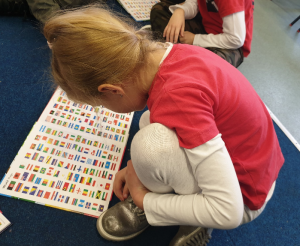 As a year 6 Geographer, transitioning to secondary school, we aspire that pupils will have developed a geographical mind of inquiry; an understanding of the world and its human and physical connections; how history has played a part in influencing our planet in terms of trade and migration and the impact that the human race has on the planet.