We are lucky to be part of an exciting project where work, knowledge and ideas are exchanged with different schools in both Poland and UK.
The schools involved are:
Monks Abbey Primary School
Bishop King CE Primary School
Lincoln St Peter at Gowts Primary School
Szkola Podstawowa w Lecze
Zespol Szkol we Fromborku
Szkola Podstawowa nr 18
This project will involve travelling between UK and Poland to visit each school for both staff and children. Due to COVID 19, project activities have currently been paused.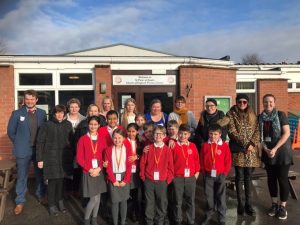 January 2019- The Polish staff came to visit Lincoln
Our children were excited to become international ambassadors and show off our wonderful city and schools. They did a fantastic job of giving our visitors a tour of each school, offering information and allowing questions to be asked and answered by both pupils and staff. We shared our visions for our schools and how building partnerships with other countries can have a positive impact for everyone.
As well as visiting our own schools, our ambassadors worked together to research and create a tour guide to use on a visit to Lincoln castle. Each team of ambassadors did a fantastic job, informing our visitors about the history of Lincoln.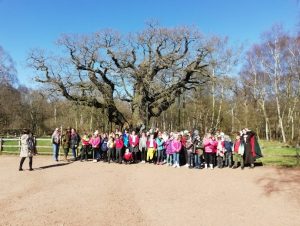 March 2019- Polish staff and children visit us
We were lucky enough to host again, this time Polish children joined us too. We had so much fun, learning about each other and how schools are similar and different in both countries. We carried out many activities throughout our three days of fun.
On one of the days we took a trip to Sherwood forest. We had the opportunity to work together to build dens in the woodland, meet Robin Hood to learn about the history of the forest and visit the major oak tree which is thought to be between 800 and 1000 years old!
We also explored our city surroundings including the south common, where we took our time to sketch the landscape including our beautiful cathedral.
During our time in schools, we carried out many team building tasks and even combined the UK and Polish flag to create a new one.
April 2019- English staff visit Poland
The school staff from St Peter at Gowts, Bishop King and Monks Abbey were very excited to visit the schools in Poland. All three schools were incredibly welcoming and we learnt a lot.
The schools were very different and much larger than our own. We were treated to musical shows from the staff and pupils as well as having the opportunity to take part in many of their lessons. The Polish school ambassadors taught us all about the legend of the 'Baker Boy' and we used this to help us design our very own tote bags.
During our time here we were able to go on a virtual tour of the city using VR headsets as well as explore different interesting landmarks. It was incredibly fascinating.
We felt very welcomed and excited to bring our own children along next time.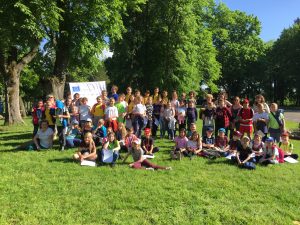 May 2019- English children and Staff visit Poland
May 2019 saw a very exciting event as nine lucky children from Year 5 took part in our school's first international residential visit. Accompanied by children from Bishop King and Monks Abbey Primary Schools, the children visited Poland through The Erasmus+ Programme.
Each day of the visit was hosted by a  different Polish school, who each planned lots of exciting  and educational activities, including sightseeing in the beautiful city of Elbląg and hearing the tale of the legendary Piekarczyk (Baker Boy), touring the cathedral and planetarium in Frombork and learning about Nicolaus Copernicus.
We are incredibly proud of all the children involved in the project- they were truly exceptional international ambassadors for our school and demonstrated our school values throughout the visit. Lots of photos and additional information about this special visit can be found on the school's Twitter feed and the International School display in the hall.