As Church of England School, core Christian Values sit at the very heart of our school community and underpin everything we do.
Start children off on the way they should go, and even when they are old they will not turn from it. (Proverbs 22:6)
Our values determine the sort of person we are or become. In our school, we aim to be the sort of people that God would want us to be and to treat others in the way we would want them to treat us.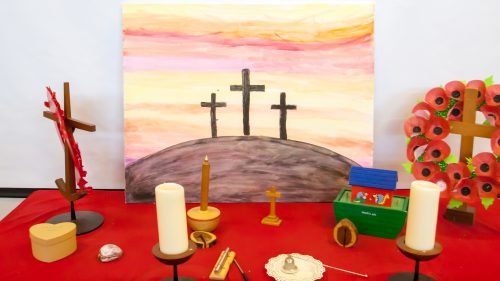 Autumn 1
Cycle A- Hope and Trust

Cycle B- Honesty

Autumn 2
Cycle A- Peace

Cycle B- Love

Spring 1
Cycle A- Friendship and Forgiveness

Cycle B- Self-belief

Spring 2
Cycle A- Justice

Cycle B- Happiness

Summer 1
Cycle A- Wisdom

Cycle B- Responsibility

Summer 2
Cycle A- Creation

Cycle B- Respect
The Christian understanding of hope illustrates how trivial our everyday use of the word can be. We hope that it will not rain for the picnic, or that the car will start or that the plumber will come tomorrow.
At a deeper level, hope is a universal human phenomenon. People hope for peace in time of war; food in time of famine; justice in time of oppression. Where hope is lost there is despair and disintegration. Hope generates energy and sustains people through dif cult times. For some people, hope is so strong that it inspires self-sacri ce to turn hope into reality.
True hope is much more than a general idea that things will get better. It is more than a belief in progress, which sees the world and people as getting better all the time, growing away from violence, ignorance and confusion. There has, of course, been genuine progress: in technology, in communications, in medical care and in the protection of people's rights through the law. Nevertheless, terror and oppression, death and disease, greed and self-serving still govern the lives of millions. In the light of all this, belief in hu- man progress looks facile and deluding.
Christian hope is grounded in the character of God. Often, in the Psalms, the writer says to God: 'My hope is in you'. It is a hope rooted in the love and faithfulness of God. Hope is not wishful thinking but a rm assurance that God can be relied upon. It does not remove the need for 'waiting upon the Lord' but there is underlying con dence that God is a 'strong rock' and one whose promises can be trusted. The writer to the Hebrews describes the Christian hope as 'an anchor for the soul, rm and secure'. Even when experiencing exile, persecution, doubt or darkness, the Biblical writers trust in God's 'unfailing love' and know that he will be true to his covenant promises. That is the basis of their hope.
Hope is not always spontaneous or easy. There is work to be done. As well as trusting God, we have to develop qualities of steadfastness in our own character.
Paul says:'We know that suffering produces perseverance; perseverance, character; and character, hope.' (Romans 5:3-4)
Hope is coupled with faith and love as one of the three most enduring gifts of the Spirit (1 Corinthians 13:13).
Christian hope for the future has its guarantee in the resurrection of Jesus. The prophets always spoke of a time to come when the whole world would be restored to God. For Christians, Jesus' death and resurrection has set this in motion.
Christian hope means trusting in the loving purposes of God: trusting that the foundations of the world are good because they spring from God. It means believing that, ultimately, we are destined to share in that goodness because of what Jesus has done. He had to pass through the 'valley of the shadow of death' but the victory has been won and our share in that victory is assured.
Trust is the very essence of faith; trust in the God who is trustworthy.
'Trust in the Lord' is a central theme in the Psalms. Time and time again, God is the acknowledged as the source of all true security and strength. This is contrasted with trust in chariots, horses, weapons, wealth or princes (Psalm 20:7; 118:8-9). We can easily think of the modern day equivalents. Trust placed in the wrong things is close to idolatry.
Trust is essential to human life and lies at the heart of all relationships. Trust entails vulnerability, putting yourself in others' hands. We have to trust experts – pilots, dentists, surgeons. Yet, within our society, there often seems to be mutual distrust between people and those responsible for governing them.
Marriage is founded on trust and is a God-given framework in which human trust can be developed. The wording of the Christian marriage vows sends out a strong message in a society where the breakdown of trust is widespread.
Trust is central to civilised society, to living together in harmony, so it is to be valued
and honoured. With wisdom and discernment, we can relearn to trust. We can begin to rebuild trust in our mistrustful society by being reliable ourselves, by not letting people down. Similarly, when we work with others, if we are willing to let go of control ourselves and trust in the abilities and integrity of others, everyone can be enriched. Jesus, after all, entrusted his ongoing work to his disciples and ultimately to us.
The Hebrew term for peace,'shalom', has a deep and complex meaning, encompassing much more than simply the absence of hostility or war.
Shalom includes ideas of healing and health, wholeness and well-being. It means harmony, stability and security within a community. It refers to relationships based on truth and righteousness, where people ourish because they are nurtured.
The Biblical picture of the age to come is one of Shalom. 'Swords will be beaten into ploughshares' … 'the wolf shall live with the lamb… no-one shall hurt or destroy…' (Isaiah 2:2-4; 11:1-9). Traditional enemies will live together contentedly and the people will be governed with wisdom, understanding and justice.
In Jesus' message, peace is an almost tangible element. It is his gift to his disciples. Paul describes God as the God of peace, the Christian message is called the 'gospel of peace' and peace is one of the 'fruits of the Spirit'.
It seems that humankind has to learn and re-learn the message of peace. It does not come easily or automatically. We constantly fall back into hostility and suspicion. Peter, quoting the Psalms, says we must 'seek peace and pursue it' (1 Peter 3:11). Jesus blesses those who are 'peacemakers' and calls them 'sons of God'.
It is noteworthy how often the word peace is used in parallel with the word 'righteousness'. Peace cannot come by simply wishing it to be the case. Peace is founded on righteousness and justice.
Christians are called to share in Christ's work of restoring wholeness. The Christian vision in this respect is far-reaching and challenging: harmony between people, harmony between people and God, and harmony between humans and the whole created order.
Friendship is an undisputed value in our society, with children often spending more time with their friends than with family. It is a key concept in the Christian framework, with Jesus being criticised for being 'the friend of sinners' and eating with those whom society rejected.
Sharing a meal with someone is an explicit sign of friendship and the word 'companion' literally means 'one with whom you share bread.'
Jesus tells stories of the heavenly banquet to which all are invited. The barriers between people are broken down in a loving community around God and Jesus had stern words to say to those who refused to recognise that all are included in this community of friendship.
The Bible has many sayings about friendship: 'A friend loves at all times.' (Proverbs 17:17)
Friends are not afraid to tell each other the truth and a friend's loving criticism is worth more than the empty compliments of someone who does not really care for you. 'Wounds from a friend can be trusted, but an enemy multiplies kisses.' (Proverbs 27:6)
The writer of Ecclesiastes puts it very simply: 'if one falls down, a friend can lift him up'. (Ecclesiastes 4:10)
The friendship of David and Jonathan is very strongly emphasised in the Bible, Abraham is described as the friend of God (James 2:23) and Jesus explicitly calls his disciples not servants but friends (John 15:14 – 15).
Trust, feeling comfortable in each other's company, being able to share joys and
sorrows are all features of friendship and these are things of immense value. True friendship enables each person to grow and ensures that the unique individuality of each person is recognised. All this echoes the value placed by God on the preciousness of each person.
Hymns like 'What a friend we have in Jesus' point to a relationship that is at the heart of Christian believing. Knowing that God is our friend is to recover something of the acceptance and close companionship that people of all ages need and crave.
Forgiveness is fundamental to the character of God. Throughout the Bible, God is described as slow to anger, abounding in love and forgiving sin (Numbers 14:18).
Jesus was uncompromising in his command to forgive. Forgive, he said,'seventy times seven' (Matthew 18:21). In other words, forgive and keep on forgiving without limit. Forgiveness was at the heart of everything he did and is at the heart of the Lord's Prayer. When Jesus declared a person's sins to be forgiven, it often aroused the anger of those who were less willing to forgive than he was and yet a prayer for the forgiveness of his persecutors was on Jesus' lips as he died. Christian preaching has always put forgiveness at the centre.
We forgive because we are forgiven. Paul says: 'Be compassionate and kind to one another, forgiving each other, just as in Christ God forgave you.' (Ephesians 4:32)
The parable of the Unjust Steward tells of a servant who was forgiven his large debt only to be condemned because he refused to forgive a small debt owed to him.
Forgiveness cannot be given or received unless it is asked for, and the asking must be genuine and from the heart. Too often 'sorry' is said very easily, implying: 'All I need to do is say I'm sorry and everything will be OK'. Real repentance demands that we take what we have done wrong with the utmost seriousness and have a deep desire not to do it again.
The whole sacrificial system in the Law of Moses was based on the principle that forgiveness requires sacrifice. Animal sacrifices are no longer offered, but the truth remains that forgiveness is costly to all involved. Once we understand that, forgiveness can be truly liberating both for the person who is forgiven and for the person who forgives.
There is a type of literature in the Bible that is sometimes called 'Wisdom Literature' and an important idea in these writings is that 'the fear of the Lord is the beginning of wisdom'. Wisdom is insight into the way life works: a proper understanding of the consequences of our thoughts, words and actions and an awareness of the true value of things. It is rooted in proper reverence for God who is the source of all life and all values.
Although related to education and knowledge, wisdom differs from cleverness. Wisdom may be best described as discernment gained through life experience and distilled into guiding principles. Sometimes, the word is used in the Bible to refer to the practical and technical skills possessed by an experienced craftsperson or administrator. In the book of Proverbs,Wisdom is sometimes personi ed and, at one point, is spoken of as she who worked alongside God as a master craftsperson when God created the world.
The opposite of wisdom is foolishness, which is a wrong understanding of life. Jesus tells the parable of the Rich Fool (Luke 12:13-21). Although this parable may seem to be mainly about greed and obsession with money, at a deeper level it is about putting our trust or faith in the wrong things. It's about missing the point; it's about being a fool. The fool does not realize that his soul is 'on loan' from God, who can require it back whenever he likes. The fool thinks that the aim of life is to 'be happy' and he thinks that you can gain happiness by doing what you want and be gaining more and more possessions. The wise person recognizes their own limitations, trusts in God and understands that there is more to like than may be seen on the surface.
The Bible often points out that God's wisdom is the reversal of 'the wisdom of the world'. Christ's sacrificial life and his teaching about love and humility may appear foolish by the world's standards but, in reality, it expresses the Wisdom of God.
Belief in God as creator is not merely a belief about how everything began; it is the perspective from which we are to view all life including our own.
It means that we place the highest value on this earth and see life as God's gift.
Pre-technological societies lived in close dependence on the earth. The daily struggle for food and shelter, at the mercy of natural forces and the changing seasons, led to a profound respect for the environment. With technological mastery has come a different attitude: one that sees the earth as there to be plundered and exploited.
Now we are reaping the whirlwind: with climate change, crises over access to water and food, destruction of habitat and the rapid extinction of species. It is not clear whether the earth can still renew itself or whether the damage has gone too far. It is also not clear that there is the will to stop, to restore this 'blue planet', our only fragile home.
In Genesis, God gives humans certain rights over his creation. With these rights, come responsibilities.We are stewards. A steward manages an estate on the owner's behalf. We have been given the earth to look after by God and to hold it in trust for future generations. If the earth is to sustain our children and succeeding generations, this clearly places limits on how we treat the earth.
There have always been elements in the Christian tradition to remind us of our responsibilities and priorities. The Law of Moses made provision for a year's 'Sabbath rest' for the land every seven years and Francis of Assisi addressed the sun, moon, earth, wind and water as his mother, sisters and brothers.
Harvest and Rogation remind us of our dependence on the earth for our survival, and lead us to thank God as the ultimate source of all the earth's riches.
Although Genesis chapters 1 and 2 contain the most well-known accounts of Creation, it should be remembered that there are extended presentations of the wisdom and majesty of God the Creator in Job 38-41 and in Isaiah 40-45. Also, in the New Testament, Paul explains how Christ was central to creation (Colossians 1:15-16) and that not only humankind but all creation shares in the redemption and renewal that Christ achieved (Romans 8:19-22). The New Testament comes to a close with a vision of a new heaven and a new earth where, in imagery that recalls the Garden of Eden, all are nourished by the spring of the water of life and all have access to the tree of life (Revelation 21).
The information about each value has been taken from the Christian Values for Schools website: http://www.christianvalues4schools.co.uk/. Please follow the link to find out more. Additionally, PDF copies of the text and linked bible references that have been published by the Christian Values for Schools website can be downloaded by clicking on each value.